Want to share your customers' posts on Instagram? Wondering how to find and use their content without breaking Instagram's Terms of Service?
In this article, you'll learn how to encourage people to create user-generated content (UGC), how to find UGC, and how to legally share it.
To learn how to use user-generated content on Instagram, read the article below for an easy-to-follow walkthrough or watch this video:
Why Use User-Generated Content on Instagram?
Before diving into how to take advantage of UGC on Instagram, let's quickly break down what it is exactly. UGC is simply content created by other people that's about your product, service, or brand. On Instagram, you may be tagged in, @mentioned in, or sent the content created by somebody else. It's usually your customers creating the content but it could also be potential customers or your audience in general.
So why should you use UGC? First of all, it's content you don't have to create. Someone else does the work and you get to add it to your content calendar. Second, UGC shows your brand from your customer's perspective, not yours, which can be more validating and trustworthy to your audience.
How do you determine what makes good UGC content for your brand? When the content matches your brand's tone, style, and colors, it's a winner. And when the content highlights the benefits of your product or positive aspects of your brand, you definitely want to use it.
Two of my favorite examples of brands that use UGC on Instagram are GoPro and The Love Bomb Co. GoPro uses 100% UGC on their Instagram accounts. They don't create a single piece of content, and yet their whole Instagram feed is cohesive, on-brand, and speaks to the power of their audience.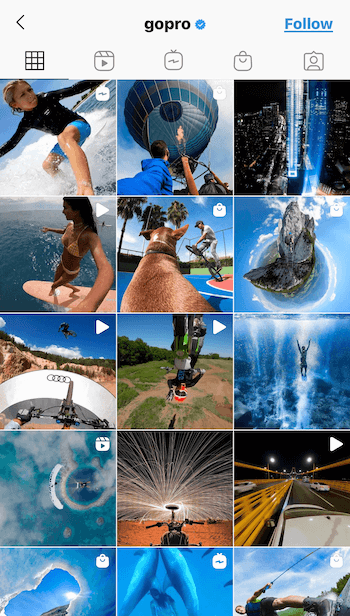 The Love Bomb Co. is another favorite because she only has a few products but her audience takes amazing and relevant images that showcase her products in relatable environments that make the products must-haves.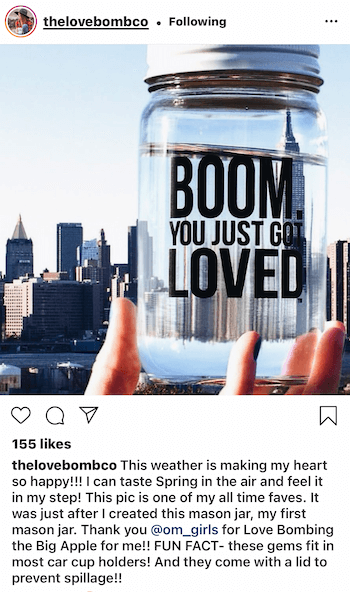 While these are highly visual brands and products, the principles are still largely the same even if you have an info product.
Now that you know why you'd want to use UGC in your Instagram marketing, here's how to prompt your customers to create it and share it safely to your account.
#1: Encourage Your Instagram Audience to Share UGC
To get people to create UGC for you, you want to encourage them to use your branded hashtag and/or @mention you in Instagram content about your brand.
Footwear company Allbirds includes their branded hashtag #weareallbirds front and center on their Instagram bio to make it more visible to their audience.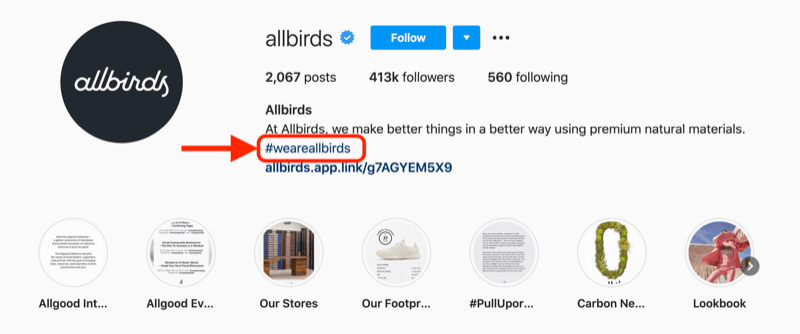 In addition to your bio, you could include the hashtag and/or your username on receipts or packaging with a little reminder to your customers to post to Instagram and tag you.
If you have a physical location for your business, use signage or even set up selfie stations to encourage people to take photos and tag you. You can also run contests or giveaways with UGC as an entry requirement to qualify.
#2: Select the Right UGC to Share on Instagram
Once people start sharing UGC on Instagram, you may be wondering where to find it. If you use a branded hashtag, check the hashtag regularly to see what content people are creating about your brand.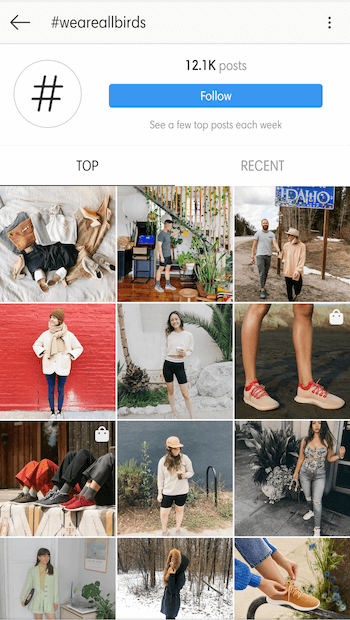 If your customers @mention you, you'll have an immediate notification that someone has created content about your brand. You may also want to use a social listening tool that will source your brand name, mentions, or hashtags across social media to find content that people are creating.
When it comes to choosing what UGC to share, be selective. Choose the right content that works for your brand and conveys the message you're creating and edit colors or add filters if needed to match your account aesthetic. Don't share things that aren't aligned with your brand voice, tone, and style.
Also be wary of sharing posts with children in them, unless your brand is targeting parents of children. Many parents don't like the idea of their children's images being shared online publicly.
If the content includes alcohol or any other controlled substance, make sure you have confirmation that everyone in the post is over the legal age of use.
#3: Request Permission to Share UGC on Instagram
Once you've decided what UGC you want to share, you'll need to get written permission before reposting it. If you don't, you could get sued for any revenue proven to be generated by that post.
For a feed post, you can ask for permission via a comment on their post or send them a direct message (DM). Let them know that you like their post and would like to share it to your Instagram account. Then ask, "Do we have your permission to use it?" Once you have permission, you can post the content to your account but you should still @mention and/or tag the original creator.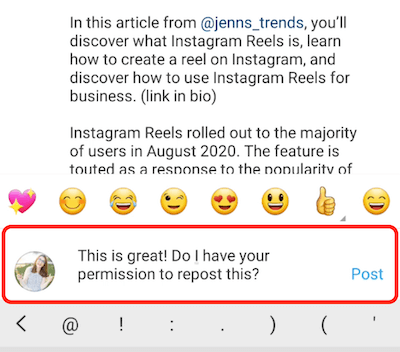 Sharing stories is a bit of a gray area but considered safe because it retains the original content in the share so explicit permission isn't required in the same way. However, I still encourage it.
If you're in doubt about resharing a certain piece of content on Instagram, you can always DM the original content creator to see if it's okay. But generally, if people are tagging you in their content, they're open to it being shared.
#4: Share UGC to the Instagram Feed and Stories
Now let's talk about some of the tools you can use for sharing UGC in both Instagram stories and the feed.
For the feed, there are a number of free apps for reposting. These apps snag the original post, image, and caption and allow you to post the content to your own Instagram profile. They'll also add a watermark with the original account's username.
Using a screen capture for sharing UGC is increasingly common and easier than most reposting tools. This is perfectly acceptable as long as you have permission and still tag the original user.
As for Instagram stories, there's the built-in sharing feature that allows you to share stories you were tagged in directly to your own stories. If you weren't tagged in the story, it's not easy to simply repost that story to your own. Or you'd have to do a screen grab of the photo or video and get explicit permission from that content creator to post it since you're not using the native in-app sharing tool.
Conclusion
Content creation is hard and can be time-consuming, especially on visual platforms like Instagram. That's where UGC can help. Sharing content from your customers and prospects can be an amazing way to share valuable content with your audience, showcase customer stories, and connect with your audience.
What do you think? How often do you use UGC on your business's Instagram account? Share your thoughts in the comments below.
More articles on Instagram marketing:
Post credit: https://www.socialmediaexaminer.com/how-to-use-user-generated-content-on-instagram/